Upcycling Success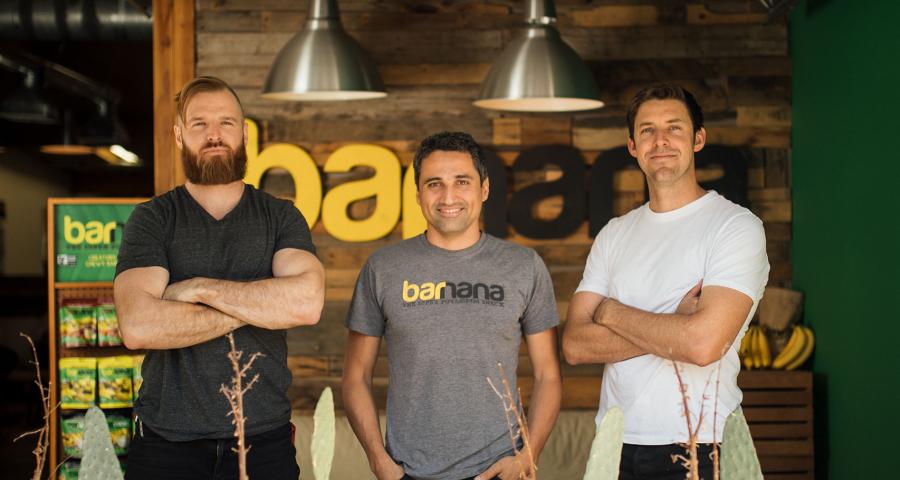 Company: Barnana
Industry: Packaged Foods
Client since: 2016
"Our product is unique in the market and we needed a strong and flexible banking team that could think creatively and work with us to achieve our goals. Bridge Bank is definitely a "people first" institution and that really stood out to us. Their ability to scale from both a capital and technology perspective is an amazing asset." - Matt Clifford, Co-Founder, COO
Barnana, the Super Potassium Snack founded in 2012 by Caue Suplicy, CEO, Nik Ingersoll, CMO, and Matt Clifford, COO, came together to help save roughly 50% of the world's bananas that go to waste each year. Bananas are one of the most consumed produce products in the world. With those two figures in mind, Barnana's mission was clearly adding up: Eliminate food waste on organic banana farms and provide healthier snacking options for the world.
Barnana upcycles the "imperfect", or aesthetically unpleasant organic bananas that used to go to waste on farms in Latin America and turns them into nutritious snacks. By creating a secondary market for imperfect bananas, Latin American banana farmers are now receiving ancillary income they would normally not be generating, and banana waste is being eliminated.
Barnana is executing a business model that proves working with local, organic, non-gmo farmers does not mean sacrificing margin. Continuous corporate growth can be achieved by working with local Latin American farming partners happy to provide agriculture in a market typically dominated by a few major exporters.
Barnana had some exciting opportunities developing in their pipeline in 2016 & 2017 with top-tier retailers and they wanted to secure a line of credit to access additional capital to help them reach their goals. Bridge Bank identified key strengths in Barnana that they look for in venture-backed companies including a strong management team, market acceptance, and financial growth that were scaling in the right direction for this relationship to thrive.
Since Barnana began their relationship with Bridge Bank, the company has had the support to significantly increase production and distribute to more retailers, both online and in grocery stores, globally. Everyone loves their products and the proof behind that claim can be found in the thousands of store locations where you can find their brand, the endless amount of raving reviews, and all the positive press they have recently received. Barnana is tackling issues far beyond the scope of providing healthy snacking options; they are taking on real world issues and setting the example of how to turn sustainability and upcycling into a profitable brand.