Resources for Those Who Fuel Innovation's Lifespan
Our Equity Fund Resources (EFR) group delivers resources and solutions for private equity, commercial real estate and venture capital funds.  In addition to providing subscription and capital call solutions, management company and GP lines of credit. EFR finds banking solutions for their fund clients' PortCo lending needs. Deeply rooted in the fund community, we work alongside clients to provide tailored solutions, industry insights and resources to achieve desired growth.
Solutions for Private Equity Banking1
You'll find the resources you need to improve your internal rate of return and enhance investment efficiencies, from a team with serious expertise. Our team spans the U.S., working with companies wherever innovation happens.
Flexible banking dedicated to you: When you call, we pick up the phone. You'll reach a banker who knows you and your business and can quickly get you answers and resources.

Credit that works: We offer a wide variety of credit tools to maximize your value.

Sophisticated solutions: Find flexible answers with solutions that soon will include the TassatPay® blockchain-based payments platform.

Cash flow optimization: We help you monitor and project cash flow to enhance working capital and liquidity. We'll optimize your transactions for better cash management.
Venture Capital and Private Equity Solutions1
Our PE banking solutions mean business. Your business. Of course, we offer lines of credit, term loans and a complete range of advanced banking products and services. As a venture bank, we also build relationships to meet rapidly changing deadlines and help you deliver on the promise of success.
Capital call lines of credit, based on blended LP commitments to enhance investment efficiencies

Subscription facilities to enhance IRR

Management company working capital call lines of credit and term loans

Sophisticated cash management, escrow services, letters of credit and foreign exchange tools

End-of-life fund liquidity solutions for seasoned funds

General partner contribution loans
Equity Fund Resource Experts
At the Center of the Fund Finance Ecosystem
Along with our comprehensive suite of banking services, we also foster an ecosystem for private equity, commercial real estate and venture capital fund partners, CFOs, managers and their portfolio companies. Our tech lending expertise serves innovation hubs throughout the U.S., where we seek out creative networking and mutually beneficial opportunities for growth.
About Us
Contact Us
Our entrepreneurial spirit matches yours. And you'll see our passion for collaboration in the way we listen intently, respond quickly and offer solutions to maximize your efficiency and returns. Let's talk about how we can work for you. 
Get In Touch
Bridge Bank Headquarters
55 Almaden Boulevard
Suite 100
San Jose, CA 95113
United States
See All Locations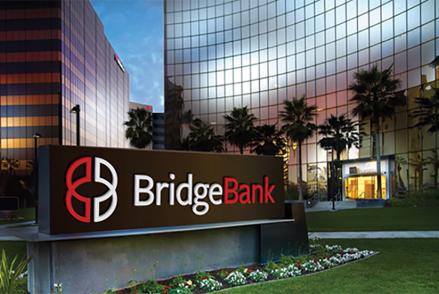 1. All offers of credit are subject to credit approval, satisfactory legal documentation, and regulatory compliance. Borrowers are responsible for any appraisal and environmental fees plus customary closing costs, including title, escrow, documentation fees and may be responsible for any bank fees including bridge loan, construction loan, and packaging fees.