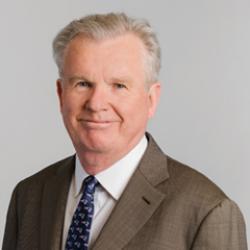 Robert R. McAuslan
Executive Vice President
Robert R. McAuslan is Executive Vice President for Western Alliance Bancorporation. Mr. McAuslan has more than 25 years of experience in senior credit administration positions.
Prior to joining Western Alliance, he was Senior Credit Executive for western U.S. markets with Mutual of Omaha Bank since November 2008. From 2000 to 2008, he was Executive Vice President/Senior Credit Officer for western U.S. markets for BBVA/Compass Bank. Earlier, Mr. McAuslan served as Executive Vice President and Chief Credit Officer for H.F. Ahmanson/Home Savings of America from 1996-1999.
He began his banking career at Citibank where he spent 16 years, with assignments in New York and Phoenix. Mr. McAuslan graduated from Northeastern University and received an MBA from Wharton Graduate Division, University of Pennsylvania.
About Us
Western Alliance Bank
With more than $50 billion in assets, Western Alliance Bancorporation (NYSE:WAL) is one of the country's top-performing banking companies. The company is again #1 best-performing of the 50 largest public U.S. banks in the S&P Global Market Intelligence listing for 2020, ranks high on the Forbes "Best Banks in America" list year after year and was named #1 Best Emerging Regional Bank per Bank Director's 2022 RankingBanking study. Its primary subsidiary, Western Alliance Bank, Member FDIC, helps clients realize their ambitions with teams of experienced bankers and mortgage experts who deliver superior service and a full spectrum of customized loan, deposit and treasury management capabilities, including blockchain-based offerings. Business clients also benefit from a powerful array of specialized financial services that provide strong expertise and tailored solutions for a wide variety of industries and sectors. Serving clients across the country wherever business happens, Western Alliance Bank operates individual, full-service banking brands and has offices in key markets nationwide.