Business Plus Credit Card1
Our Business Plus Credit Card is a secure revolving credit choice for small, midsize and startup businesses. Whether you're purchasing supplies, entertaining clients or traveling for business, smart digital tools and valuable rewards points simplify your week. And your card is backed by our commitment to superior customer service and the security of Visa®.
Earn points toward cash back, travel, merchandise and more.2

View all transactions on one easy online statement.

Manage cash flow with no annual fee or over-limit fees.1

Easily transfer your current credit card balances to Business Plus.

Conveniently control and manage your card with the online eZBusiness platform.

Mobile wallet capability
Add Value with Merchant Services3
Consumer payments are transforming almost every day. You can accept multiple forms of payment with ease and enhance your customers' point-of-sale experience with our Merchant Services offerings.    
Accept all major card types.

Handle ACH processing and check verification.

Access multiple authorization networks and transaction-processing options.

Stay up-to-date with card-processing equipment rentals.

Rely on increased data security and PCI-compliant services.
Simplify Payroll with Payroll Cards
Pay your employees in a way they appreciate while saving time and money in your back office with our Skylight PayOptions Payroll Card4 program. Easy to manage and cost-effective, the program works by paying employees through direct deposit to a Visa® debit card instead of a paper check.
Pay employees quickly with a 100% electronic system.

Provide an easy way for your employees to access their funds.

Ensure that employees receive their payment on time, every time — even if there's an office closure or natural disaster.

Eliminate costs for production, delivery and fraud-protection of payroll checks.

Offer access for all employees, including unbanked workers, regardless of credit history.
About Us
Contact Us
Gain access to a dedicated relationship manager who will take time to understand your goals and help you choose the best solutions to reach them. Let's talk about how we can meet your needs.
Get In Touch
Western Alliance Bank Headquarters
1 East Washington Street
Suite 1400
Phoenix, AZ 85004
United States
See All Locations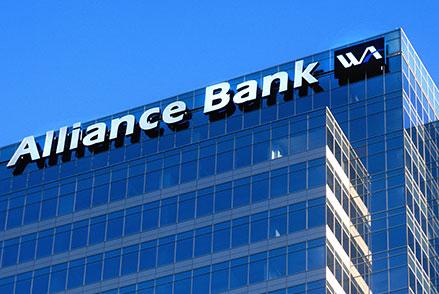 1. All offers of credit are subject to credit approval. Refer to terms and conditions for additional information. This card is issued by Western Alliance Bank and its divisions pursuant to a license from Visa USA Inc. Other fees including currency conversion exchange rates may apply.
2. Rewards reflect net eligible purchases and are subject to change. Credit card points expire after three years.
3. Merchant Services are provided by Heartland® in agreement with Western Alliance Bank. Merchants on certain processing programs are not eligible for next-day funding; funding may be delayed by Heartland® Credit or Risk departments at any time. Heartland® is a federally registered service mark of Total System Services, Inc. EMV is a registered trademark or trademark of EMVCo LLC in the United States and other countries. All trademarks contained herein are the sole and exclusive property of their respective owners. Any such use of those marks without the express written permission of their owner is prohibited. Heartland Merchant Solutions is a registered ISO of Wells Fargo Bank, N.A., Concord, CA; Synovus Bank, Columbus, GA, First National Bank of Omaha, Omaha, NE; and Deutsche Bank, New York, NY for Visa and MasterCard transactions only. Heartland offers NFC enabled POS systems, but a POS upgrade is not necessary to enable merchant service payment processing.
4. Skylight Pay Options Payroll Card is provided by NetSpend®, division of Global Payments, which is not affiliated with Western Alliance Bank or its divisions. Applicable fees may be charged by NetSpend or Global Payments separately from any fees assessed by Western Alliance Bank.