Loans & Lines of Credit1
Whether you're starting, growing or expanding your business, we provide many choices for the funding you need for any business expense or opportunity—expected or unexpected.
Corporate Finance
No resource is more important to growing businesses than ready access to capital. The experienced leadership team of the Corporate Finance group provides corporations and institutional investors with funding for acquisitions, growth capital and project finance transactions. We invest in the syndicated loan asset class and syndicate senior debt transactions originated by Western Alliance Bank. We offer:
The ability to agent and distribute larger loans, with robust syndication capabilities.

Private placements of junior debt.
Torrey Pines Bank bankers have the authority and acumen to make timely decisions on financing solutions designed to answer our clients' individual capital requirements. Our knowledge and capacity to provide the optimal corporate debt structure for your organization position Torrey Pines Bank as an ideal resource to help facilitate your business goals.
Learn More
Revolving Lines of Credit
Give your business the ability to borrow, repay and borrow again up to the original amount committed by us throughout the life of a loan. Fund seasonal changes in inventory and receivables, take advantage of vendor discounts or meet unexpected cash needs.
Contact Us
Secured Loans
We offer customized repayment terms and competitive pricing, plus the expertise of our loan officers to help you make the right decision. These business loans require an asset for collateral, and you can use them to fund equipment purchases, finance real estate, extend working capital or restructure debt.
Contact Us
About Us
Contact Us
We're ready to help you get more from your business banking relationship. Find out how we can add value to your enterprise with responsiveness, innovative solutions and bankers who enjoy helping you meet your goals.
Get In Touch
Torrey Pines Bank Headquarters
12220 El Camino Real
Suite 200
San Diego, CA 92130
United States
See All Locations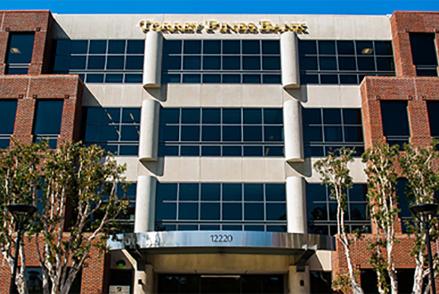 1. All offers of credit are subject to credit approval, satisfactory legal documentation, and regulatory compliance. Borrowers are responsible for any appraisal and environmental fees plus customary closing costs, including title, escrow, documentation fees and may be responsible for any bank fees including bridge loan, construction loan, and packaging fees.