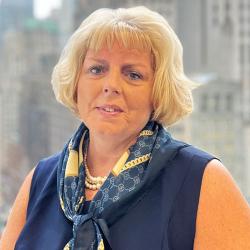 Kerry McDonough is a vice president and relationship manager in Bridge Bank's Business Escrow Services Group. Skilled in escrow, disbursing and paying agent contract negotiations and customer needs assessment, Ms. McDonough has more than 30 years of banking industry experience providing transactional services and exceptional customer service for clients requiring escrow administration for merger and acquisitions, settlement funds and paying and disbursement agent remittances. 
Before joining Bridge Bank, she worked within Citi Private Bank and the corporate trust offices of JPMorgan Chase, Bank of America and IBJ Schroder Bank & Trust Company. 
Ms. McDonough holds a Master of Business Administration from Adelphi University and a Bachelor of Arts from the University of Delaware.
About Us
Business Escrow Services
Bridge Bank's Business Escrow Services Group, a national banking group within Western Alliance Bank, Member FDIC, is a specialized, trusted resource for strategic buyers, leading law firms, exiting companies and other deal constituents. The team's in-depth experience combines with expert, personalized service and innovative product features and technology used internationally to meet the needs of clients. The group tailors services and product features to provide paying agent and escrow services related to mergers, acquisitions, asset purchases and other business escrow events. Bridge Bank is part of Western Alliance Bancorporation, which has more than $70 billion in assets. Major accolades include being ranked as a top U.S. bank in 2023 by American Banker and Bank Director.